Kingston Metal Roofing Installation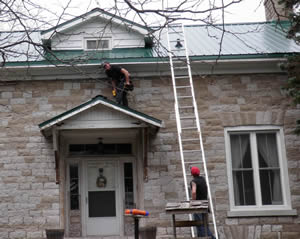 If you are in the process of upgrading or remodeling the exterior of your Kingston area home or business and are in the market for a new roof, consider investing in metal roofing. Metal roofs are built to last, providing superior protection to homes in Ontario while retaining a sense of beauty and appeal that cannot be accomplished with other roofing materials.
At D.M. Roofing & Construction Inc. our Kingston metal roofing comes in a variety of colours that are sure to suit your style. You'll be surprised at how beautiful a new metal roof installed by our expert Kingston roofing contractor will look on your home or business, and you'll enjoy many benefits by choosing metal roofing.
Why Choose Metal Roofing?
Our Kingston metal roofing is durable, fire retardant and practically maintenance-free. Metal roofs are also energy efficient since metal reflects heat and blocks its transfer into the attic, saving you money on your air conditioning bills. Metal roofs absorb 34 percent less heat than asphalt shingles, and homeowners switching to metal roofing in Kingston have reported saving up to 20 percent on their energy bills. With superior protection from the elements coupled with these money-saving benefits, metal roofing is the way to go if you are looking for a durable, attractive alternative to classic roofing shingles.
Services Our Kingston Metal Roofing Contractors Provide
Metal Roofing
Metal Roofs
Metal Roof Installation
Roofing Shingles
Roof Installation
New Roof
Roof Replacement
Installing a Metal Roof
Commercial Roofing
Residential Roofing
Roofing Systems
Roofing Materials
Why Kingston Should Choose Us for Their Metal Roofing
D.M. Roofing is the Kingston roofing contractor you can trust to provide quality metal roofing products and installation services. Established in 1992, D.M. Roofing has grown to become an "A1" and "Better Business Bureau AAA" rating roofing company with over 6,000 roofing installations - and counting. We have an extensive list of references we can provide you that will assure you of our quality workmanship and metal roofing expertise.
D.M. Roofing has been a BP Certified Roofer in Kingston since 2002, and was recently awarded "Gold Member Status" for being certified with BP for over 7 years. BP Certified roofers have strict standards to uphold, ensuring you get the best roofing products and the best service in the area. What's more, we held the installs contract with Home Depot for 7 years consecutively and currently hold the Kingston Lowe's contract for all their roofing, siding, and soffit/fascia installations. So rest assured that we have the experience to provide you with professional metal roofing installation services that are sure to impress and give you the most value for your money. Need metal roofing in the Kingston area? Call D.M. Roofing...Right Contractor...Right Choice...Right Price!
Recent Articles About Metal Roofing
ROOF MAINTENANCE: KINGSTON METAL ROOFING IS A GOOD CHOICE- Keeping your home's structural integrity in mind is important. The roof is the most important part of any Kingston house whether big or small. It is, in fact, the basic need for home maintenance. Every home owner has different means of ensuring their home is in top shape. Structural home problems must be checked regularly. ... [Read more]
TIPS FOR HIRING THE RIGHT KINGSTON ROOFING CONTRACTOR - There are about as many Kingston roofing contractors to choose from as there are doctors, and I suggest you take the same care in choosing your roofing contractor as you would your doctor. While it's clear that you are going to want a Kingston roofing contractor that employees capable installers, and it's clear you will ...[Read more]
If you are looking for roofing services then please call (613) 531-4453 in Kingston, (613) 382-1883 in Gananoque, or (613) 498-0297 in Brockville, or complete our online request form.