Kingston Skylights & Sun Tunnels
Velux Sun Tunnels & Sky Lights – the Best in the Industry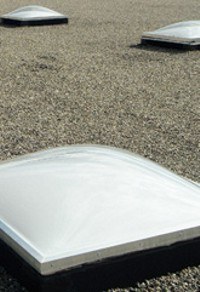 D.M. Roofing & Construction Inc is the name you can trust for quality skylights and sun tunnels from Velux, the innovative manufacturer of top line quality skylights.
Lacking natural light in certain areas of your home or business? Our Kingston skylights and sun tunnels are a perfect solution! Professionally installed by our crew of expert Kingston roofing contractors, the skylights and sun tunnels we provide offer superior quality construction and the brightest natural light. You'll be amazed at the difference a well place, properly installed skylight can make in a room with little to no natural light coming through.
Velux brand skylights and sun tunnels are designed to capture maximum daylight at all angels. Coupled with low profile flashing, our Kingston skylights will blend in with the rest of your roof, keeping up the aesthetic appeal inside and out. Call today for more information.
Our Kingston Skylight Contractors Provide These Services
Skylights
Sun Tunnels
Sun Tubes
Roof Lights
Velux Skylights
Roof Skylights
Roof Windows
Velux Windows
Velux Roof Windows
Metal Flashing
Roofing
Skylight Windows
Why Kingston Should Choose Us for Their Skylights
Skylights and sun tunnels require a certain level of expertise to install correctly without causing damage to a roof. At D.M. Roofing & Construction Inc. you can rest assured that our crew of Kingston roofing contractors have the skills, knowledge and tools to ensure your Velux skylights and sun tunnels are installed correctly, ensuring the safety and integrity of your roof.
Join over 6,000 other happy customers that have turned to D.M. Roofing, the reliable Kingston roofing contractor, for their roofing needs, from flashing to roof vents, skylights to soffit and fascia. D.M. Roofing…the Right Contractor…the Right Choice…the Right Price!
CONTACT US TODAY
If you are looking for expert roofers then please call (613) 531-4453 in Kingston, (613) 382-1883 in Gananoque, or complete our online request form.