Kingston Roofing Services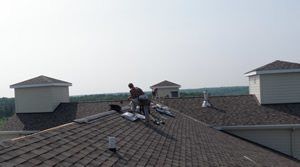 Smart Buyer Guide – It's Time to decide!
When it comes to roofing services in the Kingston area, are you just looking for price? Or do you want the best value for your roofing dollar?
If all you care about is price, then it is relatively easy to make a buying decision. The day after your roof is done, you will likely be happy that you chose the lowest price. But what about a year later or five years later? What happens when the first big rain storm or snow storm hits and your discount roof suddenly develops some big problems? Now your discount roof won't seem like such a bargain and you may wish that you followed the thinking that has prompted more than 6,000 individuals in Kingston and the surrounding areas to choose D.M. Roofing & Construction Services Inc. – the Kingston roofing contractor company you can trust for quality roofing. Price was important, of course, but these 6,000+ happy customers also considered quality, reputation and value when making their roofing decision.
A lower price usually means lower quality – and lower quality workmanship. It also likely means lower quality roofing materials. In short, if you want a low price you better also have low expectations in terms of customer service, the quality of the workmanship and the look of the finished roof. You should also expect that warranty claims will be, at best, difficult, and you may find that warranty is worthless because the roofer went out of business (many Kingston roofing companies go bankrupt annually because they do poor work and don't follow sound business practices.) A lower price may also mean no insurance or WSIB coverage.
At D.M. Roofing, you don't have to worry about any of the setbacks that come with a lower price when you choose us for your Kingston roofing services. Our company was built on excellent customer service and quality workmanship. We take pride in what we do, and our goal is your complete satisfaction. As a BP certified roofer, we are able to offer the following warranties with our Kingston roofing services and premium quality roofing products:
Limited Lifetime Warranty: BP now offers customers 15 years 100% coverage on materials.
Extended Warranties: For an additional $200.00 + HST, only a BP certified roofer such as D.M. Roofing can offer you an extended warranty that offers customers 50 years of 100% coverage on roofing materials. That's right! 50 years! So if you have a 40 year shingle installed and purchase an extended warranty – you're covered for 10 years following the life expectancy of the shingle. Who wouldn't want to take advantage of this spectacular offer! At DM Roofing, we pride ourselves on providing professional roofing services to meet all your needs. Whether you require roof maintenance or roof repair services, our skilled team is here to deliver exceptional results. We understand the importance of a well-maintained roof in protecting your property and ensuring its longevity. With our expertise and attention to detail, you can trust us to handle any roofing project with utmost care and precision. For more information about our comprehensive range of services, Contact us today to experience top-quality roofing solutions tailored to your requirements.
Some Kingston roofing contractors will try to convince you hand nailing is better while other roofers will tell you air nailing is better. Normally, strictly hand nailed roofing companies save on buying compressors, expensive pneumonic air nailers, hoses, connectors and gas, then charge you more money. Provided workmanship is proper either way, you won't have a problem and hand nailers use less nails. D.M. Roofing offers 6 High Wind Application non-corroded Air Nails which are warrantied by the manufacturer, so there's no need for worry – you're covered 100%! We will, however, accommodate hand nailing (4 nails per shingle as to code & hand nailing companies) if the customer prefers.

Roofing Services We Provide in Ontario
Why Kingston Should Choose Us for Their Roofing
Quality & Value
Can you tell a quality roof from a discount roof? Not likely. But it is easy to identify a quality Kingston roofing company. It is the one with the proven track record. D.M. Roofing, your reliable Kingston roofing contractor, was established in 1992 and has grown to become one of the top rated roofing companys in the Kingston area with over 6,000 roofing installations – and counting. That's really all you need to know, and we have an extensive list of references we can provide you.
D.M. Roofing is a trusted Kingston Roofing contractor who became the 1st "BP Certified Roofer" in Kingston in 2002. Our roofing company has been awarded "Gold Member Status" for being certified with BP for over 7 years. We held the installs contract with Home Depot for 7 years consecutively and currently hold the Kingston Lowe's contract for all their roofing, siding, and soffit/fascia installations. Need we say more? Call D.M. Roofing…Right Contractor…Right Choice…Right Price!
CONTACT US TODAY
If you are looking for roofing services then please call (613) 531-4453 in Kingston, (613) 382-1883 in Gananoque, or complete our online request form.