Commercial & Exterior Siding Kingston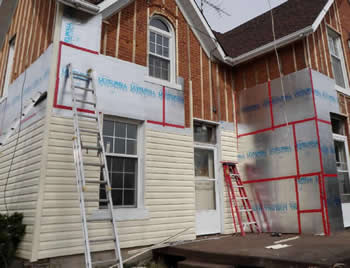 If you want to reduce your roof maintenance costs, conserve energy and boost your curb appeal, sometimes it is as simple as choosing the right type of exterior siding for your home or commercial property. Exterior siding, like roofing, comes in a variety of styles and materials. Some exterior siding such as vinyl siding is more energy efficient and requires less maintenance than other Kingston siding options. There are some vinyl siding product that even imitate the look and feel of wood, known as vinyl shakes. Then there is the classic, durable aluminum siding that many homeowners find attractive.
Whether you are looking into energy efficient and virtually maintenance free vinyl siding or standard, sturdy aluminum siding, you can count on the Kingston siding contractors at D.M. Roofing & Construction Inc. to provide you with quality products and services.If you're looking for high-quality commercial siding services, DM Roofing is here to exceed your expectations. With our expertise in exterior solutions, we specialize in providing top-notch siding installations that enhance the appearance and durability of your commercial building. Our dedicated team utilizes the latest techniques and premium materials to deliver outstanding results that stand the test of time.
Our Kingston Siding Contractors Provide These Services
Siding Installation
Exterior Siding
Aluminum Siding
Vinyl Siding
Residential Siding
Commercial Siding
Siding Prices
Siding Contractor
Siding
Home Siding
Siding Repairs
House Siding
Why Kingston Should Choose Us for Their Siding
Since D.M. Roofing's establishment in 1992, we have satisfied over 6,000 customers with our exterior siding services. As a reliable Kingston roofing contractor, we are licensed, insured and bonded. Quality product, honest service and expert workmanship is what provide all our customers, both residential and commercial, in Kingston and the surrounding areas. Our number one goal is your complete satisfaction with our siding services.
D.M. Roofing has held the installs contract with Home Depot for 7 years consecutively and currently hold the Kingston Lowe's contract for all their roofing, siding, and soffit/fascia installations. We also have an extensive list of references we can provide. If you are looking for siding installation services in Kingston or the surrounding areas, give D.M. Contracting a call. We are the name you can trust for quality products and services!
CONTACT US TODAY
If you are looking for expert roofers then please call (613) 531-4453 in Kingston, (613) 382-1883 in Gananoque, or complete our online request form.