Making the Exterior of Your House Stylish with Brockville Vinyl Siding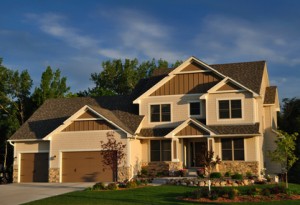 Houses today are now more sophisticated in terms of the exteriors as characterized by the different styles of roofing and outer walls, which now use vinyl siding. Brockville vinyl siding is made of plastic which is better suited for protecting the exterior of your home when compared to wood or cement. Vinyl siding is an excellent alternative to traditional home exterior siding options. It adds to the aesthetics of your Brockville house's exteriors since it can be installed with the color and design of your choice. This saves you the trouble of having your house painted and spares you from the paint's foul and dangerous smell. The use of vinyl siding started in the 1950s and it is now being used more and more instead of traditional exterior siding materials.
The structure of Brockville vinyl siding is exceptional with regards to its durability and thickness. The thinnest vinyl exterior used in today's homes can be classified as builder's grade. It has a measurement of only .40 mm. As the thickness of the plastic exterior increases, the cost naturally gets higher. However, when it is made thicker, the more it can withstand harsher weather and the rigors of normal wear and tear. As it is, Brockville vinyl siding is already very durable, and because vinyl is made of plastic, it also has a comparatively longer lifespan. It likewise adds depth to the structure's overall design and appeal.
Though the product may look the same from manufacturer to manufacturer, the chemicals used may be different during its production which may affect the lifespan of the product. The Ultraviolet coating may also vary depending on how much the manufacturers coated the vinyl siding. The more expensive the plastic exterior is, the more resistant it is to weather conditions as well as to color fading. The Brockville vinyl siding is fastened to the exterior wall with its own fastening system alongside with the nails. With regards to the effects on the environment, the plastic exterior is more eco-friendly than an aluminum siding because it requires less energy. With all of positive attributes, the only drawback is that it cannot be recycled especially if it was manufactured using the old technology because only new kinds of vinyl are specifically-designed to be recycled. Though it may be more effective than a wood siding, it is also flammable. And when it is burned, it emits a toxic gas called dioxins which are hazardous to the people around.
To have an effective and safe vinyl siding installation, the task should be completed by a professional, such as a Brockville roofing contractor who has had training on how to properly install this type of siding. The problems that mostly affect this plastic exterior is weather-related such as cracking because of extreme cold; color fading due to extreme heat; and unfastening of the plastic exterior because of strong winds. To prevent such problems, choose those plastic sidings that are industry tested for color fading; weather resistant; and if it is thick enough as stated in the industry standard. And lastly, when having vinyl sidings installed by Brockville roofing contractors, it is wise to also read installation manuals to be able to also check if the installation done was correct.
CONTACT US TODAY
If you are looking for expert roofers then please call (613) 531-4453 in Kingston, (613) 382-1883 in Gananoque, or (613) 498-0297 in Brockville, or complete our online request form.