Architectural Roof Shingles Kingston
Lifetime Guarantee "Mystique" Architectural Shingles
Coordinating a new roof installation or a roof replacement can be an overwhelming process. For the best guarantee on your investment, you need professional advice and craftsmanship — from selecting new shingle roofing materials to the final installation and detailing.
Your collaboration with D.M. Roofing & Construction Inc. is sure to alleviate the stress and complications surrounding your roofing project. We supply exclusive products from the BP Canada superior quality collection, such as the renowned "Mystique" Architectural Shingles, covered by a LIFETIME warranty.
The "Mystique" range is a wonderful collection, featuring options for homeowners seeking a rooftop that not only protects and offers long-lasting durability but also adds beauty and value to the property.
BP's "Mystique" shingles are distinctively crafted with oversized tabs and have dramatic 3-dimensional shadow bands to give a crisp, slate effect that is eye-catching and elegant. Available in 12 exquisite colours (pictured right), the Mystique range is a cost-effective, high-quality roofing solution. This two-layer laminated roof shingle provides the best protection against even the most extreme weather conditions, specifically designed with Ontario's climate in mind. "Mystique" is a 42-inch laminated asphalt shingle created from a fibreglass mat and coated with mineral granules. With this affordable, stylish, double-layer, laminate shingle, you can protect your investment while increasing the market value of your property.
At D.M. Roofing & Construction Inc., your trusted BP Certified Roofer, we cover your roof and protect your assets! We will install BP's "Mystique" shingles as part of your exterior renovation.
Call D.M. Roofing & Construction Inc. now for more information about our range of BP Canada architectural shingles roof.
30 Year "Mystique" Architectural Shingles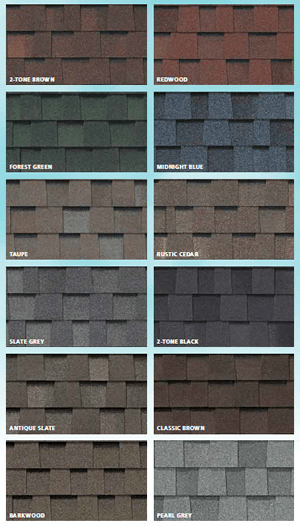 Dealing with new roof installation, roof replacements or picking out new shingle roofing material can be exhausting work. Let the experts at D.M. Roofing & Construction Inc. take the stress out of your roofing project. We supply superior quality Kingston roof shingles from BP such as the coveted "Mystique" Architectural Shingles that come with a 30 year warranty. If you're looking to install roof shingles, DM Roofing is the perfect choice. We specialize in providing top-notch roofing services, including the installation of architectural shingles. With our expertise and experience, we ensure that your roof is not only functional but also aesthetically pleasing. Our team of skilled professionals is well-versed in the latest techniques and industry standards to deliver outstanding results.
Available in 12 beautiful colors (pictured on the right), these Kingston roof shingles are a stunning choice for homeowners looking for roofing that not only protects and provides long lasting durability, but adds beauty and value to the home. Aside from it's striking appearance, the Mystique shingles offer homeowners an an affordable solutions to quality roofing. This double-layer laminate roof shingle adds superior protection from even the toughest weather. Built for the Ontario climate, these Kingston roof shingles won't let you down! You'll be happy you chose BP's Mystique roof shingles from D.M. Roofing, we guarantee it!
Don't Just Cover Your Roof – Cover Your Assets! Have Mystique roof shingles installed by your trusted BP Certified Roofer, D.M. Roofing & Construction Inc. and protect your investment.
For more information on our BP roofing shingles such as the Mystique, call D.M. Roofing today.
Services Our Kingston Roofing Shingles Contractors Provide
Roofing Shingles
BP Roofing
BP Shingles
Dakota Roof Shingles
BP Roofing Shingles
Roofing Materials
Roof Installation
Fiberglass Shingles
Roof Shingles
Shingles for Roofing
Roof Replacement
Roofing Systems
Why Kingston Should Choose Us for Their Roof Shingles
D.M. Roofing is a BP Certified Roofer, currently awarded "Gold Level" standing, soon to be the highest level "Platinum Level" for over seven years of quality intallation services of BP roofing shingles. We currently have 10 professional roofers – all background checked and fully trained – on staff, so no job is too big or too small for our roof intallation crew.
D.M. Roofing is the Kingston roofing contractor you can trust for quality, honesty and excellent customer service. We have served Ontario's residential and commercial roofing needs for over 20 years. Over 6,000 satisfied customers later, and we have an extensive list of references and an impressive reputation for quality workmanship and reliability. D.M. Roofing…the Right Contractor…the Right Choice…the Right Price! Call today to learn more about our BP roofing products, and receive a free estimate on the cost of your roofing installation.
CONTACT US TODAY
If you are looking for roof shingles then please call (613) 531-4453 in Kingston, (613) 382-1883 in Gananoque, or complete our online request form.