KINGSTON ROOFING CONTRACTOR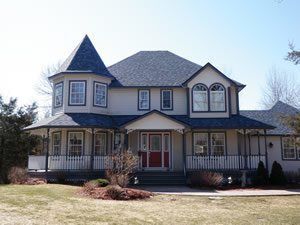 If you are looking for a Kingston roofing contractor, you have come to the right place! At D.M. Roofing & Construction Inc., we promote quality and value. Your complete satisfaction is our goal, and we ensure this goal is met through excellent customer service, expert quality workmanship, and superior products. Since 1992 we have satisfied over 6,000 customers with our Kingston roofing and exterior services ranging from residential to commercial in scope. As such, we have an extensive list of references we can provide you.
D.M. Roofing & Construction Inc. is a fully licensed and insured Kingston roofing contractor, and we take pride in our work. We have grown to become an "A1″ and "Better Business Bureau AAA" rating Kingston roofing company. We held the installs contract with Home Depot for 7 years consecutively and currently hold the Kingston Lowe's contract for all their roofing, siding, and soffit/fascia installations.You can rest assured that you'll receive exceptional service and professional quality workmanship from our Kingston roofers.
D.M. Roofing…the Right Contractor…the Right Choice…the Right Price!
D.M. Roofing & Construction Inc. – Kingston Roofer
D.M. Roofing & Construction Inc. has been a BP Certified Roofer since 2002. BP Certified Kingston Roofers are highly qualified experts who have successfully satisfied a strict set of guidelines established to ensure your Kingston roofing work is completed with the utmost care and precision.
When you choose D.M. Roofing to serve as your Kingston roofer, you can rest assured that your complete satisfaction is 100% guaranteed. You don't pay for your new roof or exterior services until you are completely satisfied. Our goal is to offer great quality service at a fair market price, and to see a smile on your face after our Kingston roofer finishes the job. We are focused on and dedicated to our customers, and it shows in the quality of roofing and exterior services we provide. Whether you are looking for durable roofing shingles, metal roofing, vinyl siding, aluminum siding, roofing ventilation, custom flashing, soffit and fascia, skylights or some other roofing service, you can count on the team of expert Kingston roofers at D.M. Roofing & Construction Inc. for unparalleled service, competitive prices, honesty, quality workmanship and the best value for your money.
Kingston Roofing Company
D.M. Roofing & Construction Inc. is the Kingston roofing company you can trust for superior quality products. We only use the highest quality roofing materials as installed by our expert team of BP Certified roofers. Whether you choose the 25 Year "Dakota" roofing shingles or the top-of-the-line 40 Year "Everest" architectural shingles, you can trust in the craftsmanship and strength of your new roof.
And with the 15 Year, 100% coverage on materials limited lifetime warranty, you can rest easy knowing that your Kingston roof will protect you and your family for decades to come.

Kingston Roofer
Kingston Roofing Contractor
Vinyl Siding
Roofing
Aluminum Siding
Roofing Ventilation
Skylights
Roofing Company
Roofing Shingles
Metal Roofing
Roofing Contractor
New Roof
Kingston Vinyl Siding
Kingston vinyl siding is one of the most affordable and cost-effective options for homeowners looking to make exterior home improvements to increase curb appeal, energy efficiency, and help protect their homes from the elements of Ontario's climate. Conventional wood or brick siding needs to be repaired every now and then when external elements as well as the inherent qualities of the siding's materials cause it to wear out, chip, crack, or peel. Vinyl siding, on the other hand, provides the same elegant, classical look of traditional siding without the need for all these concerns as there is no paint to peel or chip nor is there a porous surface that needs protection from moisture. This makes vinyl siding an optimal choice for Kingston homeowners as it is durable and requires little maintenance other than the occasional cleaning.
When looking for a Kingston vinyl siding contractor to install your new vinyl siding, it is necessary to ensure that the right people are contracted for the job. There are numerous siding contractors out there but, sadly, not all of them can do a good job when it comes to installing Kingston vinyl siding. Checking to see that the contractor that you choose is licensed, and check references to see if they are qualified to install your Kingston vinyl siding. Taking the time to ask around and investigate the qualifications of your candidate contractors for your Kingston vinyl siding installation will save you a lot of headaches, botched jobs and other unexpected hassles hiring the wrong contractor could cause.
At D.M. Roofing, we are expert Kingston vinyl siding contractors. We carry some of the highest rated products available on the market in Ontario for siding, including energy efficient and virtually maintenance free vinyl siding to classic, durable aluminum siding. Whatever your exterior home siding needs are, you can count on D.M. Roofing's Kingston siding contractors to take care of it for you with precision and ease.
What Kingston, Ontario Homeowners Are Saying About Us
D.M. ROOFING & CONSTRUCTION SERVICES INC. is Rated: 5 / 5
based on these 4 happy customer reviews.
---
""THANKS FOR THE GREAT SERVICE THAT YOU PROVIDED…THE ROOF LOOKS GREAT. DON'T BE AFRAID TO LIST US AS SATISFIED CUSTOMERS!"

– Mr. Lloyd Donaldson Kingston, ON | Rated: 5 / 5
---
"Darren: Just wanted to thank you and your crew for a job well done. We were impressed with your company from start to finish. Your crew members were polite, hard working and extremely thorough. We are very happy with the roof and have received many compliments already. Regards, Kathy Wyborn"

– Mrs. Kathy Wyborn Kingston, ON | Rated: 5 / 5
---
"D.M. Roofing – Thank you so very much for the roofing job – I am very pleased with the job."

– Mrs. Pat Ainslie Kingston, ON | Rated: 5 / 5
---
"Just a short note to anyone out there looking for a roofer. We hired D.M. Roofing to re-roof our house in Maitland. The job is complete and we are extremely pleased with the finished product. Their work was very professional in all aspects from start to cleanup. We highly recommend the company. Great crew, great work and great price! Many thanks to Darren, Jennifer and the entire crew. Job Well Done!"

– Mr. Ken & KarenForest Kingston, ON | Rated: 5 / 5
---
We Proudly Serve
Kingston, Ontario | Brockville, Ontario | Gananoque, Ontario
TIPS FOR HIRING THE RIGHT KINGSTON ROOFING CONTRACTOR – There are about as many Kingston roofing contractors to choose from as there are doctors, and I suggest you take the same care in choosing your roofing contractor as you would your doctor. While it's clear that you are going to want a Kingston roofing contractor that employees capable installers, and it's clear you will …[Read more]
KINGSTON ROOFING SHINGLES: AN OVERVIEW – Roofing shingles are the most popular material in roofing overall in Kingston. Roofing shingles are made of a mix of materials that offers greater durability and lower cost than other forms of roofing materials. Kingston roofing shingles are also available in a large range of color choices and designs, including new lighter colored shingles that … [Read more]
CONTACT US TODAY
If you are looking for an expert Kingston roofing contractor then please call (613) 531-4453, or complete our online request form.