How To Find The Right Napanee Roofers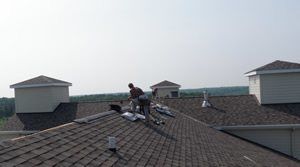 You are probably already aware that your roof structure is important and that at times it will need repair. Ironically, it also happens to be one of the most neglected parts of a home.
It is easy to see why as the roof is so sturdy that most don't notice it until they have a reason to do so. The average homeowner should be getting a roof inspection every few years and following any severe storm activity.
It's important that you find the right Napanee roofers for any repairs, inspections, or replacements. They should be trained and experienced professionals.
Just because you don't spot any damage with your untrained eye does not mean that there isn't any. By the time you can actually see problems like holes, the roof has likely been damaged for some time. Things like holes or cracked shingles can lead to extensive and expensive repairs.
Keep in mind also that if a storm causes damage to your roof, you need to find a good Napanee rooferquickly. Your insurance carrier allows you to file a claim within a limited amount of time. If you don't take care of it in time, you could be paying for your repairs out of your own pocket.
How to Make the Smart Choice In Roofers
Because your roof is a delicate matter, you need to hire experts who know how to handle it properly. You don't want to settle for anything less than the best when it comes to this type of work.
Letting someone who is not qualified to work on your rooftop address this type of work could do more harm than good. Some qualifications should include but are not limited to:
History – find out from previous customers how satisfied they were
Quality – craftsmanship matters above all else (other than licensing and insurance)
Experience – it makes sense to want to work with someone not new to the business
Customer Service – don't work with someone who is less than focused on this aspect of the job
Interview prospective companies and ask people you know and trust who they would recommend.
Get to Know the D.M. Roofing Crew
At D.M. Roofing we meet all of those qualifications and more. We have always believed in going above and beyond when it comes to the work we do. Contact us right now for all of your Napanee roofing needs and let us show you we mean business. You are going to love the results you get from our experts.
CONTACT US TODAY
If you are looking for expert Napanee roofers then please call (613) 531-4453 in Kingston, (613) 382-1883 in Gananoque, or (613) 498-0297 in Brockville, or complete our online request form.