Kingston Roofing Installer Material Choices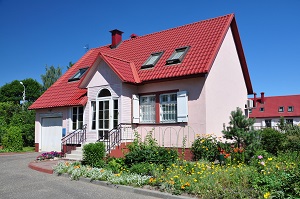 When your family or employees are inside your Kingston property, they rely on the comfort and security that the property's roof provides. The roof is the first line of defense against all adverse weather conditions. Installing a new roof is a substantial investment. It is important to hire an experienced professional roof installer to conduct the installation properly so that you and your family can have the protection a roof provides for years to come.
When determining what roofing material to install on your home or business, it is best to consult with a local professional roofing contractor who understands that particular weather conditions that your roof will endure. In Kingston, D.M. Roofing & Construction Services has been providing quality roofing installation services for over twenty years. They have the local knowledge and experience that can help you make the best choice in roofing materials for your commercial or residential property.
The Kingston roof installers at D.M Roofing & Constriction Services specialize in all manners of commercial and residential roofing materials. The following three roofing materials are very popular. The knowledgeable experts at D.M. Roofing & Construction Services can help you understand the pros and cons of each material before you decide which will best meet you and your family's needs.
25 Year Dakota Shingles
These shingles come in a variety of colors that can give your family home or business the unique pleasing look that you want. These are high performance materials that are composed of 3-tab fiberglass. Their superior quality provides a high level of protection that can stand up to the harshest weather that Kingston has to offer.
Dakota roofing shingles are covered by a twenty-five year warranty, so you can rest assured that your home or business will be protected for the long haul. Your investment will be rewarded if you choose 25 Year Dakota Shingles for your Kingston roof installation.
30 Year Mystique Shingles
These shingles come in twelve beautiful colors to match any Kingston family home or business. In addition, the aesthetics of these beautify shingles is complemented by a unique layered look that can make your home or business stand out. These shingles are composed of a double layer laminate that is designed specifically to stand up to all manners of Kingston weather.
Mystique shingles provide a supreme level of protection for many years. They are covered by a thirty year warranty, so you and your family can rest assured that your roof will perform for the long haul.
Metal Roofing
Instead of the traditional shingle, metal roofing provides a wonderful option for your Kingston property. In addition to the protection that traditional roofing materials provide, metal roofing also has the following benefits:
Fire resistance
Easy maintenance
Energy efficient
High wind resistance
And more
In all of their roofing installations, the professional roofers at D.M Roofing & Construction guarantee the highest level of customer satisfaction. You and your family will enjoy the benefits of their quality roof installation well into the future.
CONTACT US TODAY
If you are looking for expert roofers then please call (613) 531-4453 in Kingston, (613) 382-1883 in Gananoque, or (613) 498-0297 in Brockville, or complete our online request form.